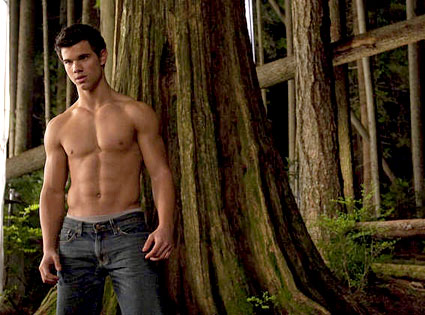 This is just dead wrong.
In a career milestone achieved by only a select few (and Jaleel White), Twilight Saga star Taylor Lautner has become the victim of his very own Internet death hoax.
Take that, Robert Pattinson.
No, Lautner's not really dead. A rep for Summit Entertainment tells E! News, "I am almost 100-percent positive this is a hoax."
Besides, unless our favorite werewolf doubles as a zombie, he'll be presenting in the flesh at Sunday's Golden Globe Awards, organizers announced today.
But it's kind of an Interweb honor...
It wasn't that long ago the onetime Sharkboy was fighting to keep his New Moon role, and now he's a chiseled cinema stud who will soon be starring with (fellow death hoax victim) Tom Cruise. And that can only mean one thing: Some knucklehead had to go and claim Lautner's gone to that great wolf pack in the sky.
At least they gave him a unique demise. Unlike many others, Lautner didn't "die" at the hands of an infamous New Zealand cliff. Some so-called reports accused the 17-year-old of a cocaine overdose.
It's not so bad. Joining such undead luminaries as Matt Damon, Tom Hanks, Miley Cyrus and even Twilight scribe Stephenie Meyer, Lautner can count himself in elite company.
That is, if he doesn't get too hung up on Jeff Goldblum, Sinbad and Urkel being there, too.